Welcome to JMR Vehicle Solutions
We take the worry out of operating commercial vehicles. Whether its truck or trailer acquisition; the operation of commercial vehicles or sourcing spare parts and maintenance for trailers and trucks our team of experienced road transport industry specialists will remove the hassle from your business and allow you to concentrate on your core activity.
Comprehensive Fleet of Truck and Trailers for hire: Renault Premium 6x2 tractor units, Bespoke trailers ranging from double deck fridge or curtainside trailers, to curtainside, box or fridge trailers with or without tail lift
Competitive contract hire: Guarantee your outgoings by taking one of our fully managed contract hire packages
Top products for sale: Whatever your commercial vehicle needs we can source the right product for you. We have a stock of used trucks & trailers for sale, please contact us for further details
Truck and Trailer Maintenance: We can supply a full maintenance service for your truck or trailers including MOT requirements at our inhouse ATF testing station.
JMR Vehicle Solutions
Rental & Sales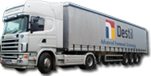 Volant
Commercials

Latest News
JMR Vehicle Solutions Limited
Paradise Lane
Slade Heath
Wolverhampton,
West Midlands
WV10 7NZ


01922 745421